---
"Iranian women have and will produce their music no matter what restrictions are placed upon them, they will always find a way. It does sometimes mean breaking the 'rules' …. but determination is a difficult thing to squash."
A talented Iranian-Australian musician, and presenter of our Iranian Voices school incursion, Gelareh Pour's musical journey is much like her personal one: finding her voice at the intersection of two different cultures.
Playing the kamancheh, a fascinating and ancient Iranian string instrument which is also an ancestor of the European violin, Gelareh transcends boundaries exploring both Iranian and Australian tones.  Since arriving in Melbourne in 2012 Gelareh has released four albums, and has appeared on a further seven albums across various music genres. Her latest release Garden Quartet (2019) mirrors a mix between the singer's two cultures, culminating in an almost spiritual experience when amplified with her haunting vocals.
Gelareh's music and her Cultural Infusion workshop are both highly personal and intimate, giving students and teachers alike a fresh look into Iranian society.  She stands proud as a spearhead of Iranian women's voices. For her Masters of Ethnomusicology, her thesis 'The Lives of Iranian Women Singers in Diaspora' analyses the music careers of six Iranian women before and after emigrating from Iran.
Recently Gelareh kindly agreed to answer some of our questions. Read on to learn more about her musical journey, her thesis, and her reflections on Iranian and Australian culture.
---
CULTURAL INFUSION: What does music and singing represent for you?
GELAREH POUR: I've found music and singing to be the most powerful ways of expression for me. They complete me, they heal me.
CI: What has influenced your music? How has your music evolved in Melbourne — can you tell us a bit about Tanin-e Melbourne and Garden Quartet?
GP: My music is somewhat of a personal journey. It's mostly improvised or organically composed within sets of rehearsals or live performances, so there's a huge amount of exploration and discovery involved. I'm influenced by a huge range of things, from art to environment. Since arriving in Australia I've been exploring different combinations of genres and instrumentation, especially in terms of how the classical Persian instruments I play can fit into other genres or ensembles. I enjoy being flexible and diving into new experiences. Unwittingly this was very much how Tanin-e Melbourne came about. I was just being myself and exploring playing with new musicians and instruments and recording everything. After about 9 months I had a collection of recordings that very much represented my journey in Australia and my discovery of what it had to offer.
In Garden Quartet that notion of combining styles was more solidified. By this stage I'd become an Australian citizen and had a good understanding of where and how I fit into the musical landscape here. What I wanted with this album was to explore the notion of place. Being born in Iran and now living in Australia I wanted to try and understand what it meant to be from more than one place, to be what you were and what you are, the sum of all your parts, and to figure out what that sounded like. I think we've achieved just that with this album. It makes me proud to have both Australians and Iranians comment on how they feel a connection to this music.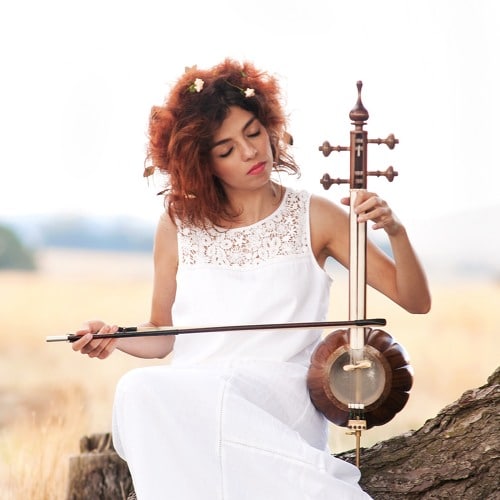 "I wanted to try and understand what it meant to be from more than one place, to be what you were and what you are, the sum of all your parts."
CI: Do you see your music as a way to treasure and safeguard the legacy of Iranian musicians and singers, and especially women singers?
GP: Yes and no. I am from Iran and I have studied classical Persian music since I was 7. I have grown up with that music and play classical Persian instruments (Kamancheh/ Qeychack), I also sing in Farsi. These things mean that I represent Iranian culture and female Iranian singers by default. I champion these things because I do them, I am them, but that's not necessarily the fuel to my career. Again, I'm interested in exploration, the journey, and whatever that may bring, regardless of the genre tag attached to it.
CI: How is your music perceived in Iran, and do you perceive it as a way of making Iranian women's voices' heard?
GP: My thesis was about the Lives of Iranian Women Singers in Diaspora. I researched and reflected on the stories of 6 Iranian women singers, professionally trained in Iran, yet never performing solo there due to current restrictions on solo female vocal performances. These women have taken their profession, voice and stories to other countries and developed into individuals with unique sounds, carving their own genres along the way. My journey tells a similar story. I am an Iranian-Australian female singer, classically trained in Iran but only appearing on stage as an instrumentalist or in the company of choirs as a singer. Now, I and all women like me are expressing how all hardworking women with freedom can grow and progress in their field and be recognized.
"I and all women like me are expressing how hardworking women with freedom can grow and progress in their field and be recognized."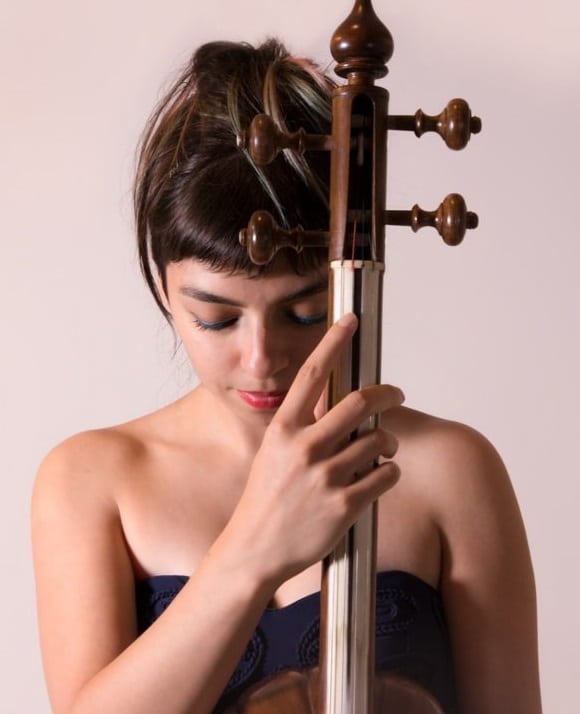 CI: How do you picture the future for Iranian women musicians and singers?
GP: This is a difficult question to answer. Limitations against women are applied all over the world, in different aspects and levels, and women consistently have to fight for their rights. Iranian women have and will produce their music no matter what restrictions are placed upon them, they will always find a way. It does sometimes mean breaking the 'rules' or, as in my case, relocating, but determination is a difficult thing to squash. We never stop trying.
---
Visit Gelareh's official website:
Watch the official video for Tanin-e Melbourne: