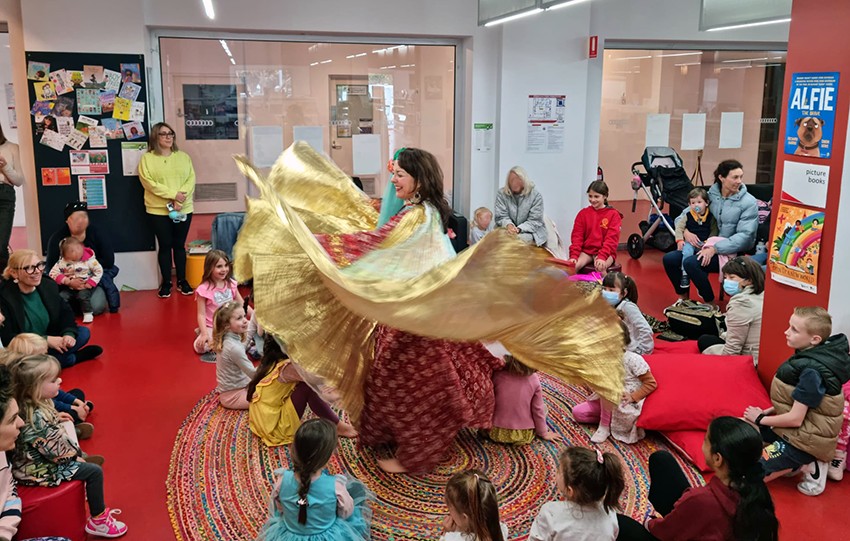 In this article, Cultural Infusion Education Strategist, Nisha Feik reviews our two cultural incursions, Rhythms and Instruments of West Africa with Mohamed Camara and Jungle Shimmy with Heidi Tyrell.
Part of my work at Cultural Infusion is to visit our presenters for support, to collect current images of them at work, to liaise with clients and help with ideas for audience engagement. It's a real privilege to work closely with people from diverse communities who are experts in the areas of song, dance and storytelling amongst other talents. They can arrive, set up, engage a group of people, and pack down within 90 minutes. In that time, audience members will often have progressed from knowing nothing at all about a particular culture to meeting and talking to a person from that country who has shared specific customs, songs and dances with them. It's at times like these when Cultural Infusion presenters really spark intercultural understanding with others.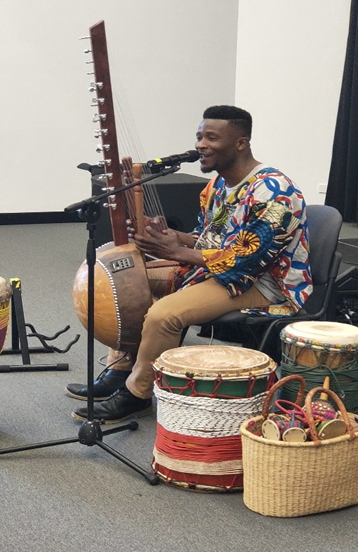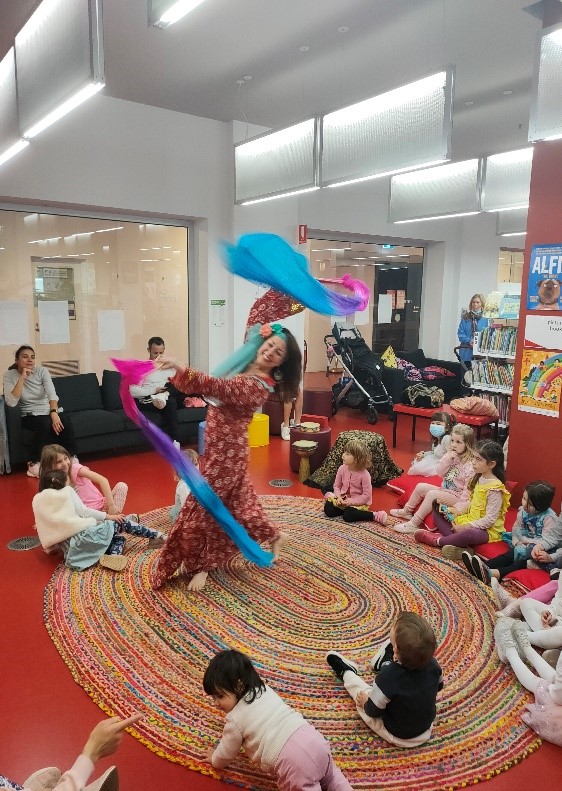 In September I helped Mohamed Camara unload 30 djembes, 2 dun duns, various kiss kass and shekere and a kora upstairs to deliver an interactive West African Music and Drumming incursion for 3 different groups of 150+ students at a Christian college in Melbourne. During the 50-minute sessions children learnt to play various rhythms on shared instruments and danced and sang with Mohamed as well as asking him questions to learn more about West African culture. Hearing and playing several different instruments with an experienced West-African musician provided these students with the opportunity to become immersed in an authentic cultural experience. They asked Mohamed lots of questions to provide more depth to their learning. I noticed that some students passed drums back and forth to each other as a way of sharing frequently even before they were asked to do so. Mohamed was able to adjust the activities for each session based on the ages of the students attending to ensure their engagement and interest.
Watch a short video of Mohamed playing the kora at this event.
Another September highlight for me was attending a short Middle Eastern Belly Dancing class for under-5s at Port Melbourne library with Heidi Tyrell AKA Azura. Heidi was great with audience involvement. Her incursion was so engaging that older primary school aged children who were in the library joined in. An elderly man borrowing books at the library also came to join in, saying he was from Egypt and added his own vocal ululation to the ones Heidi and the audience were doing together. He agreed with her explanation that it meant love – he had heard it at an Egyptian wedding. Libraries are great community hubs, and on this day passers-by were able to find out more about culture from the Middle East! Heidi was welcoming towards these people whilst providing the booked session for younger children.
In other audience involvement, most children joined in:
Heidi explaining the parts of a dumbek drum: body, head, face (skin of drum)
Drum name darabukka – broke down syllables and got audience to roll Rs
Solo and group dancing
Learning a chant
She used a combination of traditional middle eastern and popular music, which suited the audience well.
The sessions described in this article are just two of the many cultural events provided by Cultural Infusion presenters recently around Australia. The importance of intercultural understanding within communities is clear. When people learn about each other's traditions they are better able to share with people around them and empathise to share life experiences.
Our Cultural Calendar is a great way for community organisations to celebrate important cultural events. Or to book cultural presenters for your next event, head to Education and Experiences.