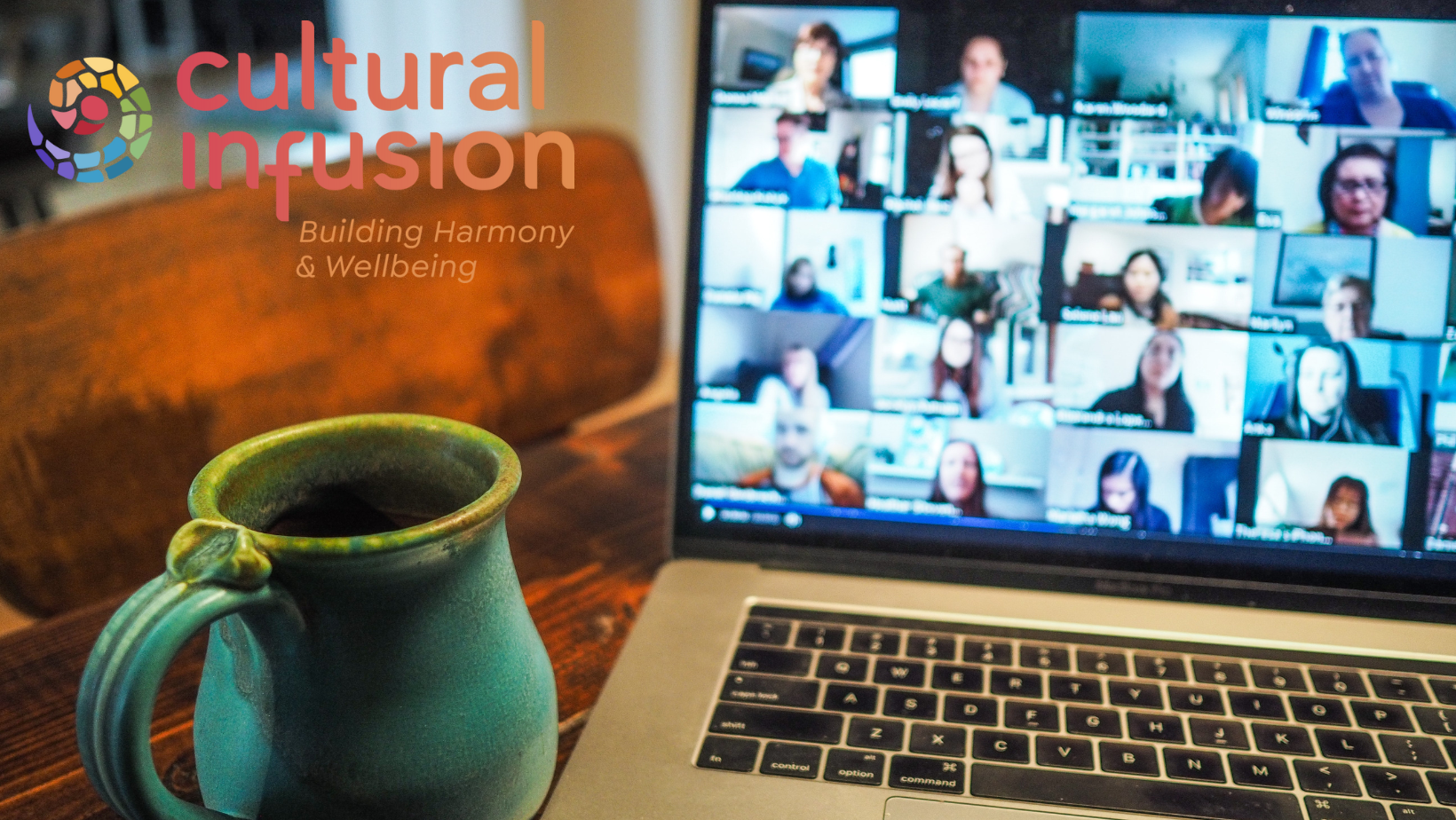 Programs, Presentations and Productions: How we can work towards inclusion. 
Cultural Infusion December Newsletter
For our last newsletter of the year, we provide educational resources and programs to help you prepare for the 2023 school year! We also recap two presentations of our accessibility and inclusivity application, Inclusion Atlas, and highlight our support for this month's production of Börte: Empress of the World!
---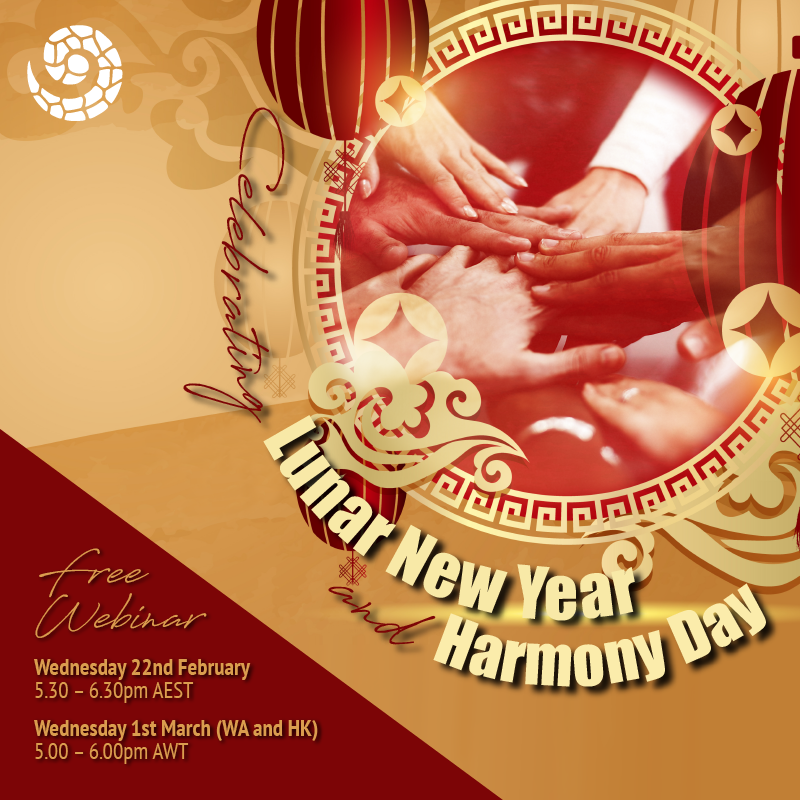 Our Education and Partnership Advisor Nisha Feik provides multiple educational resources to help you prepare and plan for the 2023 school year.
Celebrating Lunar New Year and Harmony Day
Cultural Infusion has educational resources and cultural experiences to help schools and communities celebrate cultural events. Lunar New Year celebrations begin on Sunday 22 January 2023, celebrated amongst East and Southeast Asian cultures, including Chinese, Vietnamese and Korean communities. Harmony Day is on 21 March and coincides with the United Nations International Day for the Elimination of Racial Discrimination.
Cultural Presenters
From Chinese Lion Dancing to Chinese Music, we have many presenters who can share Lunar New Year culture directly with students and teachers through engaging and interactive programs. These talented presenters are passionate about sharing traditions, languages, and knowledge in carefully refined sessions. Head to Cultural Infusion Programs to book and secure the presenter of your choice.
School Resources
To extend the intercultural understanding curriculum in schools, Cultural Infusion has developed a number of resources that teachers can access for FREE such as:
We recently launched our 2023 webinars with our Education and Partnership Advisor Nisha Feik. Her first of 8 webinars provide plenty of ideas to help celebrate the Lunar New Year and Harmony Day. These activities centre around Chinese and First Nations Cultures, from learning about the Lion Dance to stories about traditional Australian Indigenous fishing methods and a language activity to learn about the cultures in your classroom. Click the Webinar registration link to register for FREE.
The lesson plans that accompany our cultural presentions have easily understood activities linked to videos that are selected to provide traditional and geographic context. Teachers who attend our webinars also receive a free copy of the lesson plans.
Sound Infusion is an online arranging platform with thousands of instrument samples from around the world.  As well as offering the ability to create music in the studio, the interactive map encourages exploration of the history and geography of instruments. To see a video of an instrumental Chinese arrangement that uses Sound Infusion, click HERE.
---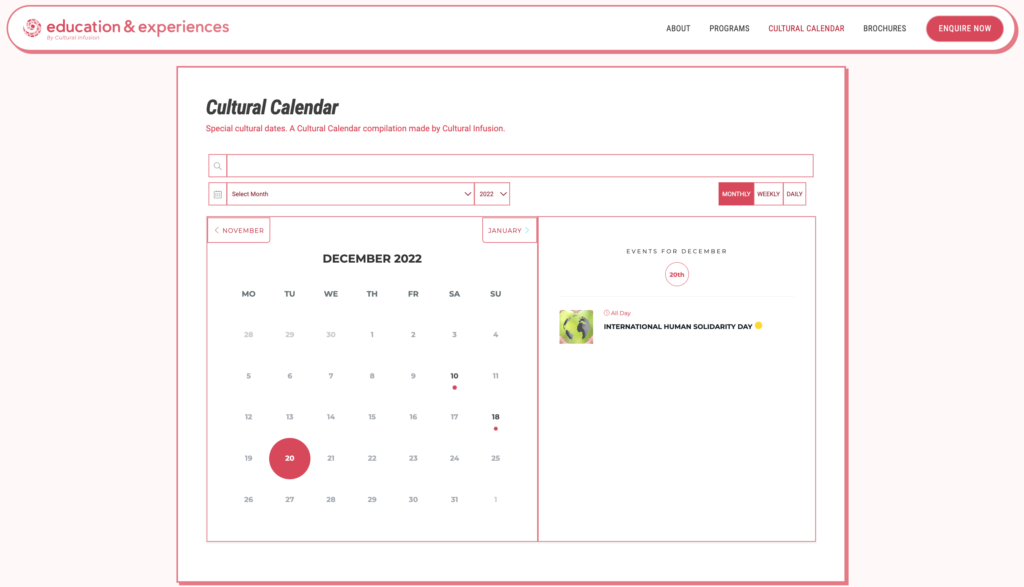 Our Education and Experiences programs are booking out quickly for the new year. Head to our website to plan your next intercultural experience!
Cultural programs and presenters bring a wide variety of experiences from around the world. Our many programs are available for in-person and virtual delivery across Australia. Our cultural incursions book out quickly, especially for our peak periods like Lunar New Year, Harmony Week and NAIDOC Week.
Be sure to check out our many programs via our website to book in advance. The filtered search function allows you to search by audience, state, genre and geographical region. For any enquires regarding our cultural programs, click here to contact us. 
For more information about upcoming cultural holidays and commemorations, click here to visit our Cultural Calendar.
---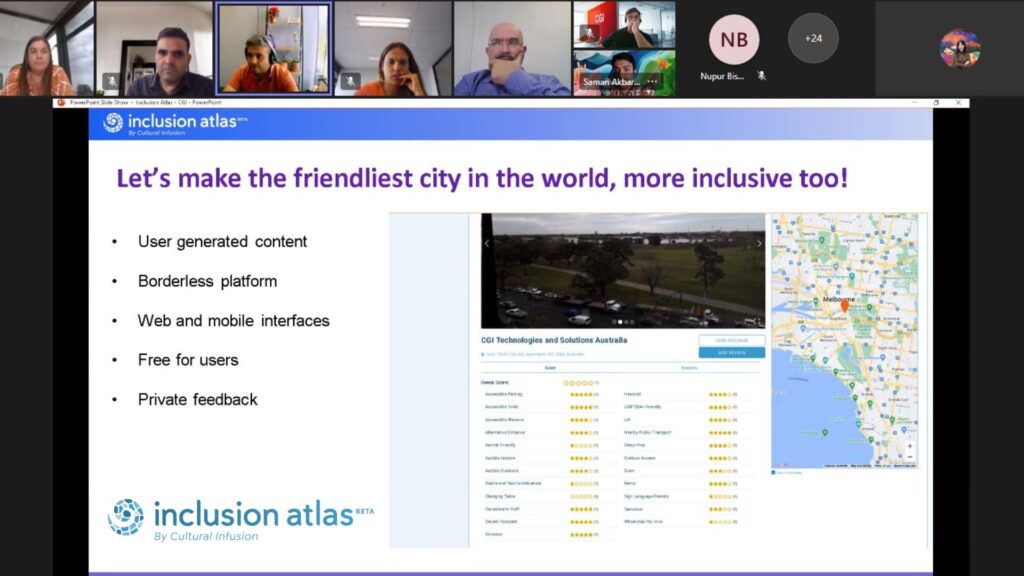 This month, Inclusion Atlas was presented on two occasions, by our Chief Technology Officer Rezza Moieni, and our Project Coordinator and UX specialist Saman Akbaryan. Created by CulturalInfusion, the beta version of Inclusion Atlas will be available on all platforms in the coming weeks.
Rezza presented our accessibility and inclusivity app, Inclusion Atlas, to CGI, which is one of Canada's leading IT and business consulting services firms.
Rezza spoke about the benefits of diversity, sharing that organisations that are inclusive of all cultures are 6 times more likely to be innovative and 6 times more likely to anticipate and respond effectively to change.
Inclusion Atlas allows users to find, rate and review venues and spaces based on their accessibility and cultural inclusivity. Through the user-generated content, venue owners are encouraged to improve the experiential quality of their spaces. The platform provides the ability for patrons to share feedback directly to venue owners in private and constructive ways.
Saman presented Inclusion Atlas at the Ableist Cities Symposium at the University of Melbourne. This event examines topics of accessibility in Australian cities and encourages the improvement of physical access and cultural facilitation in all spaces.
In particular, there is a focus on transport, housing and built environment policy. Currently, 1 in 6 people live with disability, but often aren't recognised or acknowledged as such due to factors including age or cultural background.
Inclusion Atlas provides a forum to encourage all venue owners to be diversity agile, expanding to consider the accessibility and cultural needs of all.
To find out more about Inclusion Atlas, click here.
---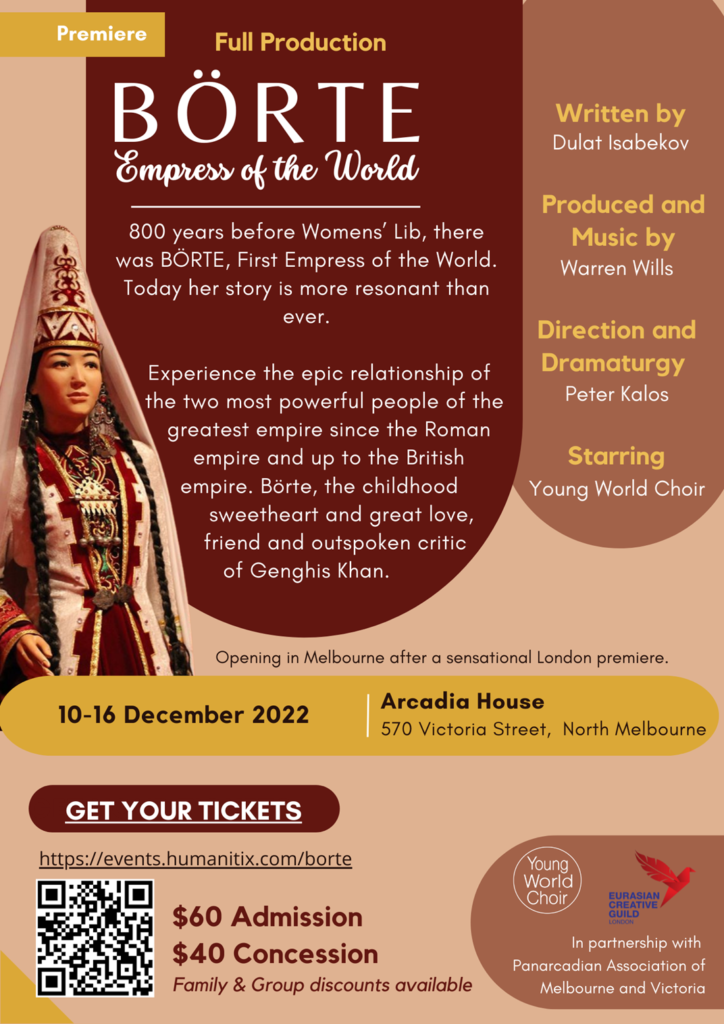 Cultural Infusion is proud to support the production of Börte: Empress of the World, a story following the journey of the wife and outspoken critic of Genghis Khan.
Börte: Empress of the World is produced by famous Australian director and composer Warren Wills. Set in 1148 AD, this story highlights the wise woman who played a critical role in the life of Genghis Khan, and the relationship between the two most powerful people of the Mongolian Empire.
The production is contributing to a meaningful and inclusive change in the performing Arts industry featuring numerous performers with disability. To read more about the inclusive cast, access the ABC article HERE.
$10 tickets are available for children under 12 years and group bookings of more than ten. Contact us at [email protected] to purchase tickets at this price!
Börte: Empress of the World is being performed between the 10th and 16th of December. Click here to purchase tickets. 
---
Happy holidays!
Congratulations to all teachers and allied professionals for the commitment and dedication you have shown through another challenging year. May you have a well-deserved rest, peaceful, healthy holidays, and joyful celebrations for those celebrating Bodhi Day, Hanukkah, winter or summer solstice, Christmas, New Year and/or any other days. Our team sends our blessings to you and your loved ones, and we look forward to reconnecting with you in 2023.
Our office will be closed from Thursday the 22nd of December until Tuesday the 3rd of January. If you'd like to contact us during this period, please email [email protected] or click here to contact us.