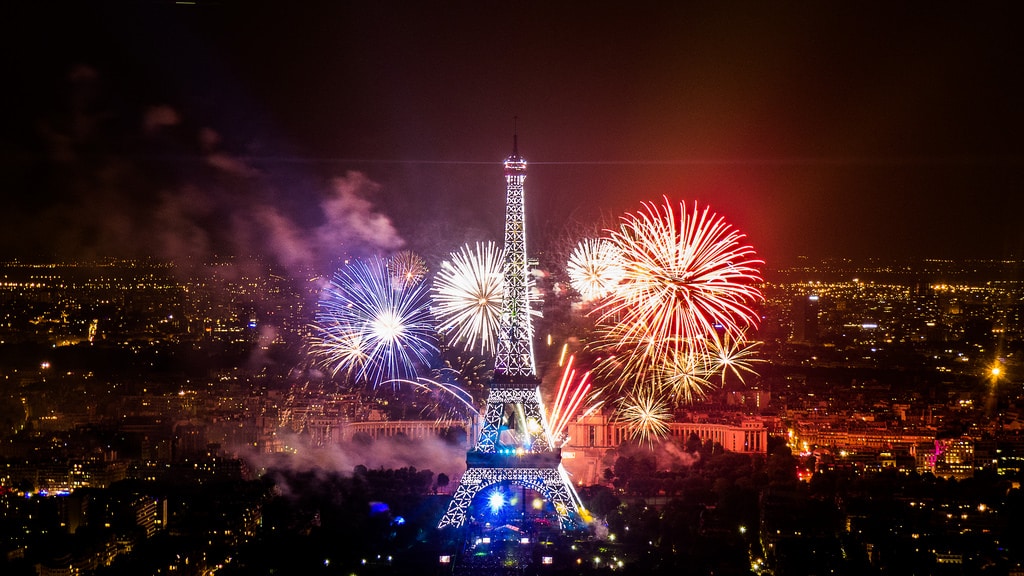 What is Bastille Day?
Bastille Day marks the storming of Bastille prison on 14 July 1789, an act of rebellion against the autocratic monarch and elitist groups who exerted their influence over France.  It also celebrates Fête de la Fédération which was the first celebration of Bastille Day in 1790. Since 1880, it has been recognised as a public holiday.
What do they celebrate?
According to the national myth, France was mired in fear and anger against the nobility and clergy, who abused their power and kept the deceptive and tyrannical King Louis XVI in power. It was a society based on class and power, leaving a majority of people left in poor economic and social conditions.
Revolutionary fervour had been brewing long before the storming of the Bastille. France's poor economic state and corrupt tax system lay heavy burdens upon the lower and middle class, while exempting the nobility and clergy. Social conditions were declining, thanks to King Louis having taken on massive debt to defeat Britain by financing the American Revolution.
The Bastille, an 18th century prison and fortress, represented the stronghold of royal authority in Paris and oppression of the Third Estate, made up of commoners and bourgeoisie. On 14 July, a crowd of commoners broke into the Bastille leading a violent standoff between royalists and the people.
Ironically, they only managed to free a handful of criminals, and the missed out on freeing the notorious Marquis De Sade (who gave us the English word for 'sadism').  De Sade had been imprisoned in the Bastille until a few days before, when he was transferred to an insane asylum.
Why is Bastille Day important?
Bastille Day marks the turning point of the French Revolution and symbolises a growth of power amongst the common people who eventually lead an uprising against the feudal system.
This led to the full recognition of democracy and liberty in the rights of law through the Declaration of Rights of Man and the initiation of a constitutional monarchy. And the Women's March, where 7,000 women marched to Versailles to petition against the poor economic situation and for King Louis to move to Paris.
Every year, French citizens come together to celebrate Bastille Day, a day to rejoice in the successes and culture of France. The day is a celebration of patriotism and the values of 'liberty, equality and fraternity', rather than the battle itself.
How can I celebrate Bastille Day around Australia?
At Cultural Infusion, we provide a range of talented French presenters that can captivate and delight your classroom or workplace with the dulcet tones of Chanson Française.
In Victoria, Les Bâtons Français is a show designed to be fun and zany while also touching on many French icons and literature. From the Eiffel Tower to the Arc de Triomphe, get a taste of all things French as we follow Jacques and Pierre's journey across France as they try and fulfil their wish of finding true love! Well versed in physical theatre and comedy, they parody stories such as Cyrano De Beujerac and the Three Musketeers, as well as the farcical style of Moliere and much more. Les Bâtons Français uses mime, puppetry, music, song and dance with audience interaction makes for a perfect theatrical experience.
Suitable for Year 1 to 8.
Vive La France has been performed in hundreds of schools around Victoria. A theatre performance featuring music, dance and comedy, it is a humorous, irreverent look at some of the events and character icons that have come to typify France's great culture. Through a series of skits and sketches, the show takes a journey through France's history. We meet two soldiers; English and French, who attempt to find a way out of the 100 years war and Monsieur Guillotin, who attempts to persuade the world of the effectiveness of his new punishment device. Journey through the French Revolution, inside the Moulin Rouge, meeting at historical icons like Marie Antoinette, Joan of Arc, Louis XVI and even delve into the heart of Napoleon's short-man syndrome. Through a series of skits and sketches, be immersed in France's history.
Suited for Year 5 to 12.
In Queensland, Pauline Maudy shares stories of her Parisienne childhood in Les Chansons Françaisesan, an interactive vocal session with songs that explore intercultural understanding. Depending on the age group, Pauline will teach students a popular children's song or a catchy chorus from the Yé-Yé era of the 1960s which they'll sing accompanied by the band. Students will hear and speak French throughout the workshop and end the session learning to waltz!
Suitable for Prep to 12.
New South Wales residents can enjoy French Music, performed by Viva the Trio. Multi-instrumentalists Peter and Marie Rappolt have been playing live music together since 1969 for this program they are joined by French cabaret singer Corrine Andrew to form 'Viva the Trio'. 'La musique des années folles en France' refers to the music of the post-war years of the roaring 20s which swept across the world. The trio play music from legends like Edith Piaf, Django Reinhardt, Sidney Bechet and Josephine Baker .
Suited for Year 3 to 12.
How can I celebrate Bastille Day virtually?
In-person programs and presentations are not always possible, so, luckily, our virtual solution, Sound Infusion, which is available globally enables you to celebrate this momentous, cultural occasion from the comfort of your own home or the classroom.
Our web-based music platform, featuring thousands of digital samples of instruments from around the world, allows  students to experiment with, and create their own unique composition. We have an expansive range of sounds originating from France including Early Renaissance Harp, Renaissance Field Drum, Sacbut, Ducaine and Pivana Flute.
Enjoying music is always the best way to celebrate. Through Sound Infusion, you can create your own French-inspired song, and in the process, learn the rich histories of the instruments you select.
Close your eyes and listen to what you have produced and you might even be virtually transported to Bastille Day festivities in France.