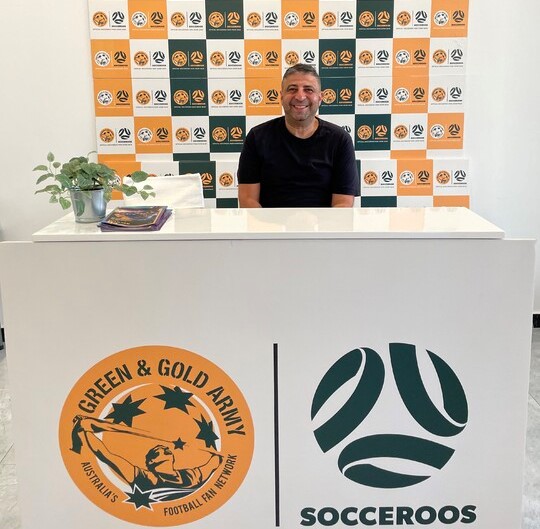 Richard Rashid Hussein has lived in the Middle East region since 2006 and has spent many years bridging the gap in cultural understanding between the Middle East and Australia. In addition to working part-time with Cultural Infusion's Diversity Atlas as a cultural ambassador developing business in the Middle East, North Africa (MENA) region, Richard recently travelled to Qatar for the FIFA World Cup 2022 (28 November–15 December) as Head of Events and Entertainment and Cultural Attaché for the Green & Gold Army that represented the Socceroos, our very own Australian national football team.
I feel blessed in my dual roles of Cultural Ambassador at Cultural Infusion and Head of Events and Entertainment for the Green & Gold Army, a role that is representing my country, the players' families, VIPs and fans. My professional roles really complemented each other.
My entertainment and events role was exciting yet challenging in many ways. I have had big roles in my career, including working on big TV shows like The X Factor or The Voice but none bigger than this, which is the world's biggest sporting event.
Qatar is not known for having a major events industry and this world cup is the grandest of all big events, which would challenge any nation even with an events industry. My role at the world cup was to bridge cultural understandings and provide world-class events and entertainment. It included organising pre- and after-match events for our groups ensuring they would be entertained and enjoy what Qatar had to offer. We started with a welcome dinner in the desert. I was the DJ who ensured that all the events had authentic Aussie hits from the likes of Farnham to ACDC to put us all in a great mood.
The Socceroos had only ever made it out of the group stages once, back in 2006. Hardly anyone expected them to beat Denmark, our final group game, on 1 December, or imagined a win would be enough to get them through. Many supporters were due to fly home straight after the game.
No fan will ever forget Matthew Leckie's thrilling goal off the left boot in the 60th minute against Denmark. But it wasn't until the end of the game that we realised we had made it to the final. People rushed to see if they could delay their flights and extend their accommodation. Some weren't able to and it was sad seeing how disappointed they were to leave, even though they were stoked with the result.
But not many expected the Socceroos to keep progressing after the 4 December match against Argentina. Boy did we give them a scare – and they made us proud.
On the ground at Qatar, I was the only Arabic-speaking person on the leadership team and the only one with authentic knowledge of the culture. In the beginning, as I met with small groups of people on our tour, I volleyed many questions about appropriate dress and a few about showing affection in public. I answered as best I could on topics like Islam, dress code and the Middle Eastern perspective on the world, , which is still in some ways very similar to the Australian perspective, but just a bit more conservative. 
Some of the Australian guests at Qatar were surprised to see at one event perhaps over 100 Toyota land cruisers parked in various areas near the stadium, including on the side of the road before a game, sometimes not in an orderly fashion as we are more accustomed to in Australia. The relaxed parking made it hard sometimes for our buses to manoeuvre through the areas. When I saw some people get frustrated at what they assumed to be arrogant behaviour, I pointed out it was simply different cultural behaviour from their norm, and not a sign of arrogance. Travelling to other places requires an open attitude to avoid the trap of snap judgments. Everyone was eager to learn and understand once I was able to point out these differences between Australian life and Qatari life.
Another frequent question the Australian visitors asked me about was alcohol. Although alcohol wasn't available in the stadiums, it was available at 5-star hotels, and once these places were known there wasn't an issue. We would sometimes go in groups to a venue to watch a game and have pretty much whatever beverages we wanted.   
Although Qatar is conservative, the only issue that came up a few times was around dress codes entering venues or museums and wearing of shorts. It's often necessary to dig for detail in the Gulf, and I was able to clarify that the men could wear knee-length shorts.
On 4 December, the remaining Australian supporters took their seats in the stadium to watch Australia vs Argentina and witnessed the inevitable loss, 2 goals to 1, against the third-placed team in the world. The result, while not a victory, was still a moment of huge pride in the courageous Socceroos, who had already achieved Australia's best-ever result at the tournament.
The Qatari locals were very hospitable to our people and others. They did a wonderful job as hosts to the incoming hordes of football fans, and it only took one or two days for our people to get the gist of the culture. Near the FIFA fan festive area and big screen there was an excellent display about Islam for people who wanted to know more about the religion.  
It was evident that everyone enjoyed the experience and the kindness of their Arab hosts. We found the locals willing to stop and listen or explain for us if anyone needed help. Once in a grocery store when someone was a little short of cash for something the amount was waved aside in a typical gesture of hospitality. In this regard, it was a little like being in Australia in the 1970s, and in contrast to the much bigger and slicker cities of the Middle East.
Qatar 22 might have been less rowdy than some other world cups, with no alcohol at stadiums, but that's not to say it wasn't an awesome experience for everyone. My own experience there was amazing. I got to witness Australia create history by entering the final 16 and coming close to beating Argentina, all in company with the Australian convoy. One thing to note is that the only two teams to beat Australia in the World Cup 22 are Argentina and France, the two teams playing off at the final.
We can all be proud.