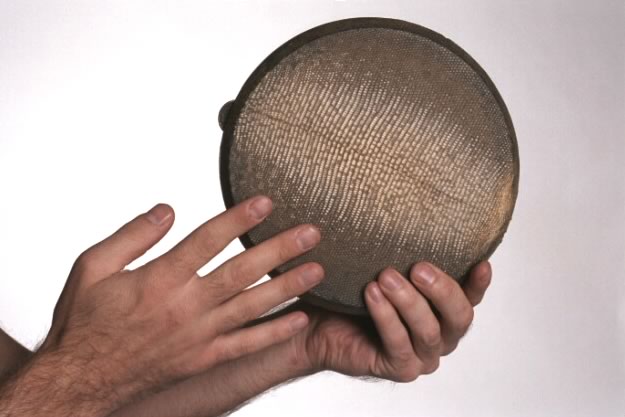 Bhajan instruments: The Kanjira's Beginnings
Featured in our Joko's Tambourine app is another instrument of the Tambourine family; the South Indian Kanjira. Used as a folk drum or as part of Bhajan music, Hindu devotional music the Kanjira closely resembled the European style Tambourine. In the 1880s Manpoondia Pillai is credited with altering the drum and it afterwards it began being used in South Indian classical music called Carnatic music.
What a Kanjira is made from
The Kanjira is quite small, a little larger than a CD. Unlike the Riq and Pandeiro it only has a couple of jingles that are usually made from old coins. It uses the skin of a monitor lizard that is now becoming endangered in India, whether it is due to the popularity of this instrument nobody is sure. The frame of Kanjiras are mainly made from wood from the jackfruit tree.
Carnatic music: It's percussion instruments
The Kanjira is played by the fingers, an index finger and 2-3 three other fingers alternating as you can see in the video above. It usually accompanies the Ghatam, a claypot percussion instrument or the Mradangem, a double-headed drum. Unlike these two drums the Kanjira is not tuned to a pitch; in Indian music the drums and instruments are tuned to the same key. The Kanjira's pitch is usually altered by sprinkling water on the skin and then the player squeezes the drum skin to tighten or loosen it. You will often see a Kanjira player stopping and sprinkling water on their instrument throughout a performance.
Listen to the Kanjira
One of the most famous Kanjira players of all time is G. Harishankar. He is the only Kanjira player to be awarded the Sangeet Natak Akademi Award, the highest national recognition given to performing artists. Many believe he is the greatest Kanjira player who has lived. Listen to him in performance.
Hear Harishankar trade rhythms with Karaikudi R. Mani one of the most famous Mredangam players in their world.
Want to learn more?
Learn more about the Kanjira and similar instruments with Joko's Tambourine. Learn rhythms from this culture and many more through video gaming fun.
Kanjira, Carnatic music, Bhajan instruments
Download Joko's Tambourine now: Apple Store  Google Store